2017 Titleist Pro V1 and Pro V1x: Player Validation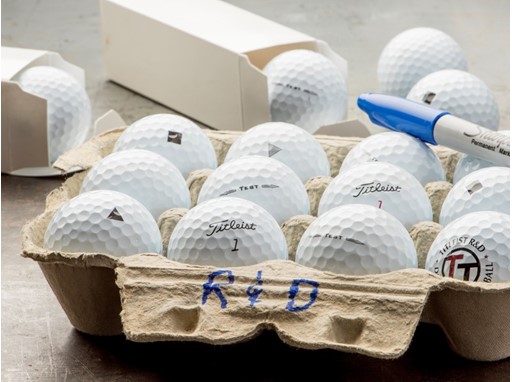 FAIRHAVEN, Mass. (Jan. 25, 2017) – Prior to their market introduction, new Pro V1 and Pro V1x undergo a rigorous player testing and validation process with tour players, PGA Professionals and amateurs of all skill levels.
In total, the R&D testing and validation process for 2017 Pro V1 and Pro V1x golf balls​ included more than 80,000 golfers of all skill levels who received numerous iterations of prototypes throughout the rigorous two-year development process. This included six different double-blind prototype tests during the summer and fall of 2015 that were instrumental in determining the final 2017 designs.
Beginning in late October 2016, final Pro V1 and Pro V1x prototypes were seeded across the worldwide professional tours for validation by the best players in the world:
• Jordan Spieth began practicing with the 2017 Pro V1x at his home in Dallas. A few weeks later, he put the new ball in play for the first time in competition at the Australian Open. He won the event with a birdie on the first hole of a three-man playoff at The Royal Sydney Golf Club.
Quoting Jordan Spieth: "I put new Pro V1x in play in Australia and in the first week we won. What I noticed immediately was the improved flight. It held its line in the crosswinds better. A couple shots that were going off line stayed closer to the fairway or closer to the green, which allowed me to save par when I may have been in trouble. Golf is a game of misses. When you mishit one, if it's not really going as far off line, that makes a significant difference for us, and it makes even more of a difference for amateurs."
• Adam Scott teed up 2017 Pro V1 for the first time at the same event, following a week of practice with the new model near his home in Australia.
Quoting Adam Scott: "I think the remarkable thing with the new Pro V1 is how far it goes now. I'm hitting it longer than I ever have but I also have that soft feel like when I grew up playing a balata golf ball – it's incredibly soft."
"The flight with the new Pro V1 is exactly what I'm looking for. It just wants to stay up in the air with that penetrating ball flight. That's a really nice feeling when I can ease back on a shot but still get the rise and the ball flight I'm looking for, even when it's into the wind."
• Two weeks later, Brandon Stone played new Pro V1 in his seven-shot victory at the European Tour's Alfred Dunhill Championship at Leopard Creek, following a second-place finish with the new model the week prior on the Sunshine Tour.
Quoting Brandon Stone: "I'm always open to try new product made by Titleist as I know they improve on every model. I played the weekend in Dubai with the new Pro V1 prototype and really enjoyed the performance around the greens. My next event was the Lion of Africa Cape Town Open. Finishing second, it validated the performance which gave me the confidence I needed heading into Leopard Creek. At Leopard Creek my stats around the greens were the best they had been in months without compromising on distance and ball flight control with the long game."
• Stone is among a growing list of traditional Pro V1x players who have tested both new models and decided that 2017 Pro V1 now fits their game best. Kevin Na opened 2017 by switching to new Pro V1 at the Sony Open.
Quoting Kevin Na: "I previously played the Pro V1x, but I tested the New Pro V1 while I was home during the offseason. I tested it both inside and outside on the launch monitor, and most importantly, I played several rounds with it and hit every conceivable shot that I would have in competition. I immediately loved the feel and flight of it and I did not lose any distance compared to the Pro V1x. I was most impressed by the consistency it gave me on the wedge and short iron shots into the wind. Those are the scoring shots where you need your golf ball to perform the same every time and the New Pro V1 did."
• Graeme Storm had not played a Titleist golf ball in competition for more than nine years until he teed up new Pro V1x at the European Tour's BMW SA Open in mid-January. Storm won the event, triumphing on the third hole of a sudden-death playoff with the world's second-ranked golfer, who was also playing 2017 Pro V1x. The victory marked Storm's first since trusting Pro V1x to win the Open de France ALSTOM in 2007. Following the 2008 season, Storm switched golf ball brands and had not won since.
Quoting Graeme Storm: "I put the new Titleist ball in last week and won my first tournament in 10 years. The first thing I noticed when I put the new ball in play was that I was getting farther distance, I think it was probably 10-15 yards. I was getting great spin control with my irons into the greens, and it obviously worked with the putter which was fantastic."
• A week later at the European Tour's Abu Dhabi Championship, Tommy Fleetwood teed up 2017 Pro V1x for the first time in competition. It was also Fleetwood's first time playing a Titleist golf ball as a professional. He posted a final-nine 31 on Sunday to win the event, earning his first European Tour victory in more than three years.
• In total, more than 100 players worldwide have put the new models in play – including Jimmy Walker (Pro V1x), Kevin Kisner (Pro V1), Angel Cabrera (Pro V1x), Billy Horschel (Pro V1x), Zach Johnson (Pro V1x), Chris Kirk (Pro V1), Webb Simpson (Pro V1), Charley Hoffmann (Pro V1), Ian Poulter (Pro V1x) and Thongchai Jaidee (Pro V1x) – as the momentum continues across the worldwide professional tours.
CONTACTS
Eric Soderstrom

Manager of Communications

United States

eric_soderstrom@acushnetgolf.com

508-979-3028
MORE FROM Golf Balls
SUBSCRIBE TO RSS FEED
XML