Experience 917 on 9/17: Trial & Fitting Events This Saturday Nationwide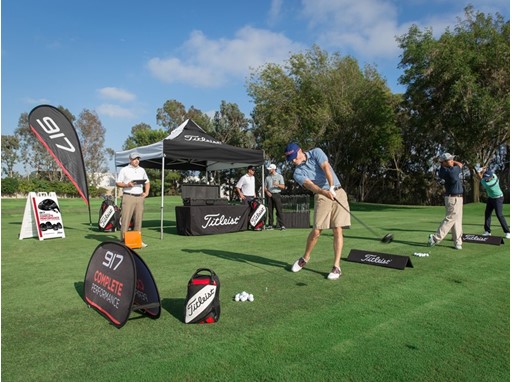 FAIRHAVEN, Mass. (Sept. 15, 2016) – This Saturday, as the calendar turns to 9/17, the complete performance of new Titleist 917 drivers and fairways will be put on display at golf courses and facilities nationwide.
917 Complete Performance Launch Events will be held at more than 2,000 locations around the U.S on Saturday, Sept. 17, providing golfers their first opportunity to experience the maximum distance and superior forgiveness of Titleist 917 metals and get fit utilizing 917's industry-leading SureFit Hosel and new SureFit CG weight system for precise adjustability.
A listing of 9/17 events open to the public can be found at Titleist.com at the following link: www.titleist.com/917#events​. Trial and fitting events will also be held at additional private facilities around the country. For more information or to book a fitting appointment, golfers are recommended to contact the golf professional staff at their preferred location.
"If you purchase a 917 driver off the rack in its neutral settings, you'll be getting exceptional all-around performance. It's the best driver we've ever made," said Josh Talge, Vice President, Titleist Golf Club Marketing. "But if you can give us about 30 minutes and 30 swings to get properly fit into 917's adjustable technologies, you'll also be getting a driver that is essentially designed for you, a driver that is custom built to get the absolute most out of your golf swing. We're confident you'll experience significant performance gains."
Golfers can also get fit for new 917 metals throughout the Titleist Fitting Network. Every day, Titleist's highly skilled network of fitters work with golfers to optimize club performance and fine-tune set composition to ensure they are playing a setup that maximizes performance and gives them the best opportunity to shoot lower scores. Titleist Golf Club Trial Sets are also available at locations nationwide. Golfers looking to find a Titleist Trial Set or Titleist Certified Fitter in their area should visit http://www.titleist.com/locator​​ or call 1-888-TITLEIST.
CONTACTS
Eric Soderstrom

Manager of Communications

United States

eric_soderstrom@acushnetgolf.com

508-979-3028
MORE FROM Products
SUBSCRIBE TO RSS FEED
XML