Vokey Design SM6 Raw Wedges Now Available through WedgeWorks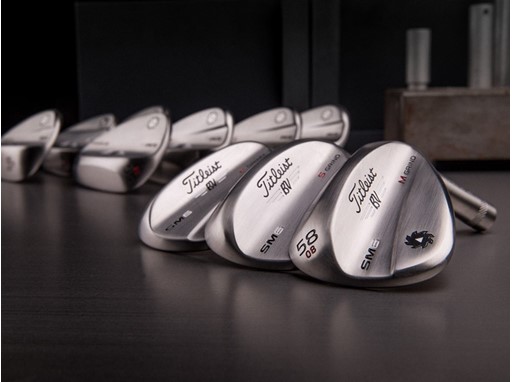 FAIRHAVEN, Mass. (May 11, 2016) – Titleist Vokey Design SM6 wedges, the overwhelming choice of players on the PGA Tour, are now available in Raw, the tour's preferred finish.

Previously available only through the Titleist Tour Van or Vokey Tour Department, Vokey Design SM6 Raw wedges can be ordered and customized through WedgeWorks on Vokey.com​ beginning May 11.

MASTER CRAFTSMAN BOB VOKEY ON RAW FINISH: "Raw means there is no additional finish applied to the wedge, which is made of 8620 carbon steel. It has what I like to call a satin appearance that will start to rust after some use. On tour, the Raw heads give us the flexibility to grind wedges based on a player's needs. But guys just love the look of that raw steel – some players like it even more as it rusts, kind of like a trusty hammer or another tool. These are their scoring tools."

Many tour pros have also commented on the Raw finish reducing glare that might reflect off the wedge on bright days.

VOKEY DESIGN SM6 TECHNOLOGY & PERFORMANCE: Vokey Design SM6 wedges provide precise distance control, enhanced shot versatility, maximum spin and superior feel through the following key technologies:

• A groundbreaking new Progressive Center of Gravity (CG) design aligns the CG with the impact position of each loft to produce precise distance and trajectory control with exceptional feel. Engineered using cutting-edge CAD technology, the Progressive CG is visible technology on the back of the wedge.

• Bob Vokey's tour-validated SM6 sole grinds have been fine tuned through Bob's work with the world's best shot makers, providing golfers of all skill levels with improved shot versatility for their swing type, shot making style and course conditions.

• New 100% inspected proprietary Spin Milled TX4 grooves and face texture deliver more spin (up to 200rpm more spin on average) with more consistent spin control.

SM6 ON TOUR: Vokey Design SM6 became the most played wedge model on the PGA Tour the first week it was available to players at the Shriners Hospital for Children Open in October, with a total of 74 new SM6 models immediately put in play. SM6 has remained the #1 model in play each successive week, with the total of SM6 models at this week's Wells Fargo Championship reaching 153.

Among the tour players gaming SM6 Raw wedges are Jordan Spieth, Adam Scott, Jimmy Walker, Bill Haas, Byeong Hun An, Justin Thomas and Kevin Na.

SM6 RAW LOFT/BOUNCE/GRIND MATRIX: Vokey Design SM6 Raw wedges are offered in six lofts from 50º to 60º and four of Vokey's most popular sole grinds – F, M, S and K. In total, there are 12 loft/bounce/grind combinations.

50.08 F
52.08 F
54.08 M* - 54.10 S
56.08 M* - 56.10 S
58.08 M* - 58.10 S - 58.12 K
60.08 M* - 60.10 S - 60.12 K

*Available in both RH & LH.

CUSTOMIZATION OPTIONS: As part of WedgeWorks, every SM6 Raw wedge can be customized, including personalized stamping in up to eight characters and one of 12 paintfill colors. Golfers can also choose from an industry-leading selection of shafts, grips, shaft bands and ferrules.

PRICE AND AVAILABILITY: Vokey Design SM6 Raw wedges are available beginning May 11 through WedgeWorks on Vokey.com​​ or by custom order, starting at $195.


CONTACTS
Eric Soderstrom

Manager of Communications

United States

eric_soderstrom@acushnetgolf.com

508-979-3028
MORE FROM Latest News
SUBSCRIBE TO RSS FEED
XML